EquityKey®

Equity Options USA (877) 777-4727
Re: EquityKey: Unlocking the Future Value of Your Home TodayTM. 
Would you consider selling 50% of the future equity of your home, land or commercial real estate if you were paid cash…today? And, the current equity/value of your property will be yours to keep.  
EquityKey may purchase your future equity if you are a qualified owner.  The program is straight forward and is subject to applicable terms and conditions. 
How You Would Qualify: At least one owner must:
Be 65-85 years old
Owe less then 80% of the home's value
Have at least one property value/equity worth $350K+
Be in good health (no Type 1 diabetes, no smokers, no recent bouts with cancer and no uncontrolled high blood pressure or severe cardiac issues.) 
   Who is EquityKey?
Owned by KBC Financial Products, a subsidiary of Belgium-based KBC bank NV
KBC manages an estimated 450 billion in assets, 11 million customers in 30 countries
KBC is focused on working with private clients  
   What are the Benefits?
Each qualified owner can receive cash equal to 10-15% of the property value
No closing cost are involved – just a simple application fee (refundable if not qualified or when the program funds)
Funds are NOT a loan. (This is NOT a reverse mortgage)  
Equity Options USA is a Certified EquityKey Broker and will be happy to answer your questions regarding this opportunity.  Please contact David H. Schwartz, (877) 777-4727 or e-mail me using David@EquityOptionsUSA.com.   
Warm Regards, 
David H. Schwartz Broker           The videos presented are EquityKey products offered by EquityKey.
Click On Link To See Video =======================>
EquityKey Introduction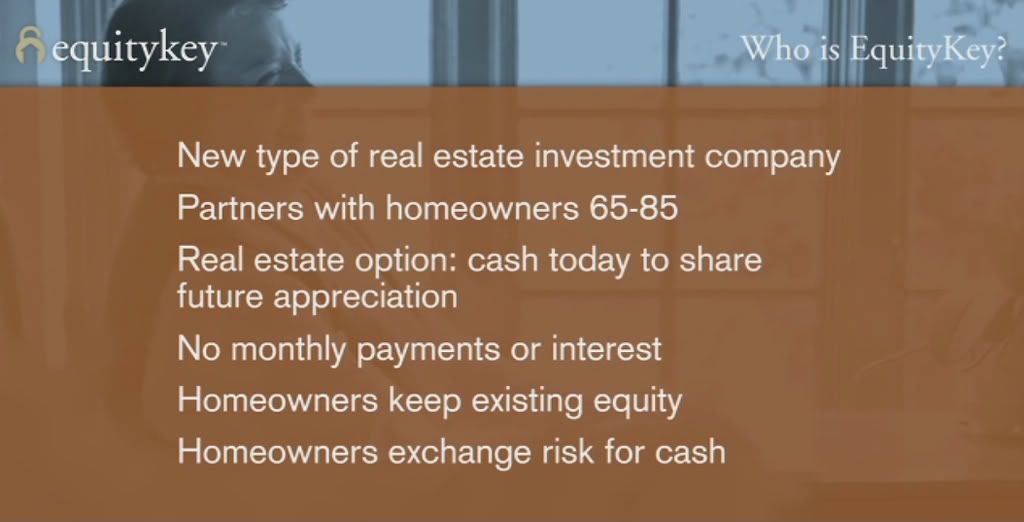 Click On Link To See Video ======================>
EquityKey How It Works
?